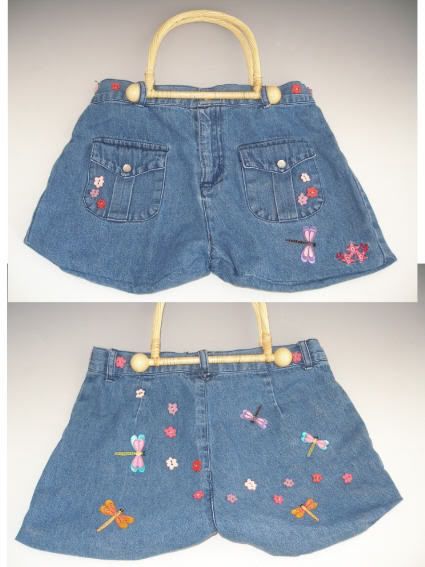 This is my little sister's purse which I promised to post here. I have been trying to teach her to tat for quite some time. She was successfull with rings and chains but she soon lost interest. Aw well, I tried. She spent a lot of time sewing on all those little buttons. Cute eh?
So I abandoned my little skirt purse because I couldn't get inspired by it and most of all I couldn't visualize what it was going to look like in the end. I think I was caught up in my dislike for pastel colors so I went back to the drawing board. I found a dollar thrift store and bought some tiny jeans. It was hard to cut them up because I have a lot of tiny people in my life that would have looked so cute in them!
Anyway, because of the recent dog attack that has left my right hand damaged, I haven't been able to get a whole lot done. But I did pick up the tatting last night and stubbornly plodded on. I tatted these original butterflies and made up a flower pattern on the fly. What would normally have taken a couple of hours has taken me two full days. The tatting is terrible, because my tensioning is out the window and I had to stop every few stitches because of the pain. But anyway, I am thankful that I am tatting at all and hoping it will all heal up soon.
These colors are much more my personal style and I can envision a lot more to come for this purse. This is just a start.